Total Environmental Business Scheme
of NICHIEI INTEC
NICHIEI INTEC is a leading manufacturer of piping support metal fittings, based on our reliable quality and decades of technological development, today we are developing new businesses in the earth environment and energy environment fields. We create many kinds of value chains such as the promotion of eco-friendliness, energy saving, cost reduction, and safety, energy and environmental measures, and by solving many issues confronting society, we help our customers' to meet the ever-changing needs of this challenging new era.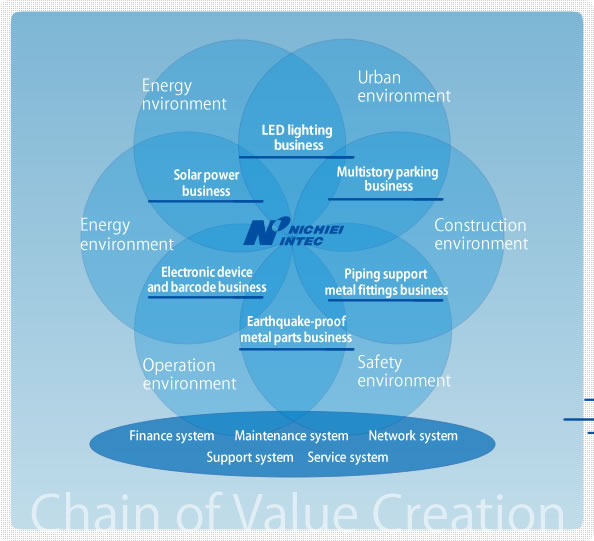 ●Promotion of eco-friendliness, energy saving, and cost reductions by introducing LED lighting and solar power systems
To facilitate the introduction of these systems, we have financing options (rental and leasing), 20 business offices throughout Japan, a distribution network and a construction contractor network; we are able to promptly offer proposals and solutions to the issues and problems facing our customers. We also ensure security and reliability in quality through production control in our domestic factories.
●Proposals of new urban environment infrastructure by the multistory parking business
●Development, manufacture, and sale of "earthquake ceiling fall prevention systems" make our customers' Business Continuity Plans (BCP) more reliable.
Through our high quality and high added value products, we contribute to the environmental business and the construction industry's total system business.

We, NICHIEI INTEC, have brought innovation into the construction site with our wide range of high quality and high added value products, including "Rakutsuri" Series of piping support metal fittings. We have not simply developed new products, but have also focused on the "creation" of "new value chain", for improving the efficiency of entire operations at construction site, by we are making continuous innovations such as easier operation, increased safety, and leading to total cost reduction.

Rakutsuri Ace: An industry standard today
Sit & fit: Pipes can now just be left before permanent positioning!

Moving a hinge to off-center enables pipes to rest before permanent positioning. No longer need to shoulder a heavy pipe.

Keeping a bolt horizontal !

A new item "Magic Piece" prevents a bolt from falling off, even after the removal of a nut, and keeps it horizontal, so it enables smooth band fitting.

Whirlstop means faster and tighter!

Whirlstop holds that bolt steady; no more corotation when tightening a nut, getting a significant increase of tightening efficiency.